5 benefits you will obtain, thanks to EXPRESS BOTAM guarantee for express dedicated transport services
All >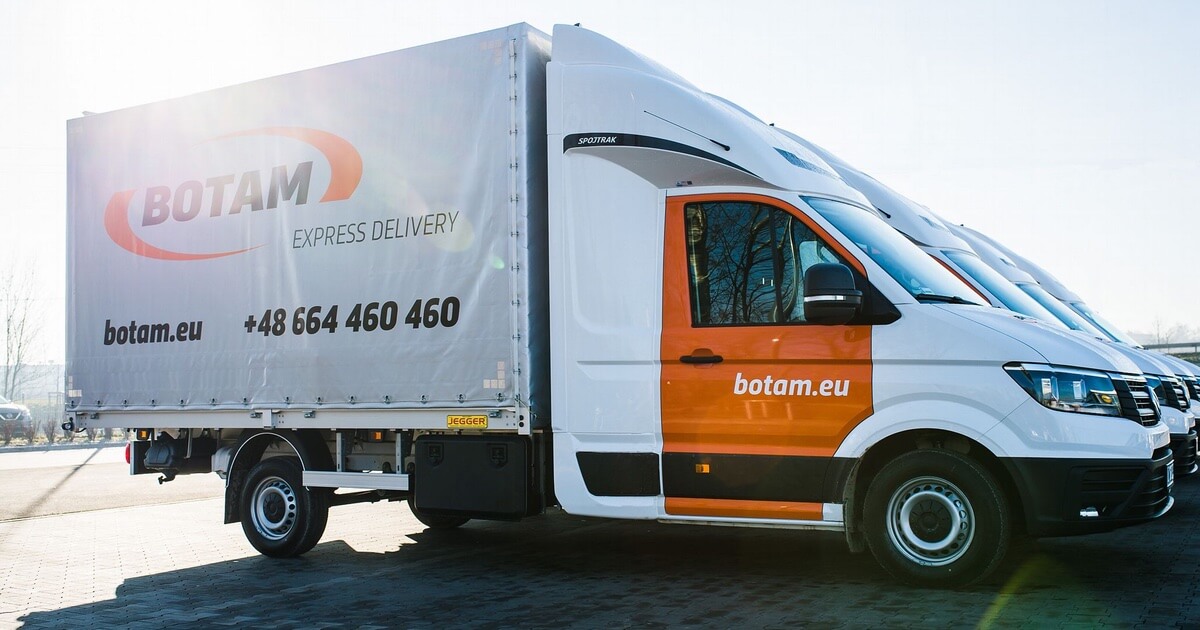 EXPRESS BOTAM is more than just a transport company. At EXPRESS BOTAM we help production companies supplying components for such industries as: automotive, metallurgical and pharmaceutical, in an express organisation dedicated to "just in time" transport throughout the European Union. By organising fast and timely transport, we protect them from downtimes and unplanned problems associated with the supply of elements necessary to continue the production process. Thus, we give them the confidence to significantly reduce costs associated with the disruption of the supply chain.

Research results show that almost two-thirds (63%) of companies do not use any technology to monitor the efficiency of the supply chain (source: BCI study by Zurich Insider), which may be related to the fact that Supply Chain Managers spend most of their time working on supply control, and not for supply chain planning or strategic logistics of the company.
That is why having a trusted supplier of express transport services guarantees Supply Chain Managers an increase in the logistics efficiency of the company and affects cost optimisation as well as the possibility of a flexible response to the changing situation. Many years of experience of transport companies in organising special transport are helpful here. It allows EXPRESS BOTAM to guarantee fast pick-up of cargo within a maximum of 2 hours from the moment of order confirmation and timely delivery to the recipient at the level of 99.9% throughout the European Union. The guarantee of EXPRESS BOTAM constitutes commitment to express delivery on time or the delivery will be free.
See how it's done at EXPRESS BOTAM
1 – Quick response to a transport enquiries
At EXPRESS BOTAM, we know how important time and quick response are. That's why we need just 7 minutes to respond to your request, presenting a specific offer, including its price and the declared express delivery time.
The express delivery of transport offered by EXPRESS BOTAM is influenced by the fact that every enquiry is processed in urgent mode. Transport services organised by us are dedicated only to you, which means that the car carries only your products and does not change the route along the way, in order to deliver loads of other customers at the same time. This gives you a guarantee of really express and timely delivery.
2 – Instant pick-up of goods
Express dedicated transport offered by EXPRESS BOTAM, means: pick-up of goods from anywhere in the European Union – within a maximum of 2 hours from the moment of accepting the order. Will any courier company give you such an instant pick-up?
Express transport services provided by EXPRESS BOTAM also mean a diversified fleet of new vehicles, tailored to the characteristics and needs of each order. We transport goods in the weight range from 1 to 1200 kg with various dimensions – the maximum possible height is up to 2.5 m. Our vehicles are equipped with a modern, certified system of double floors, which allows us to increase the loading area by up to 40% and consequently simultaneous loading of up to 14 non-stackable pallets. In the case of stacked pallets – we can carry 20 at a time. Our vehicles are equipped with modern Innolift self-loading systems, which significantly improves and speeds up their loading and unloading.
We have vehicles that can carry any type of cargo: from neutral to ADR, ensuring neutral temperature and safety of products with above average value.
3 – Constant monitoring of your transport
In the opinion of Supply Chain Managers, having a trusted supplier of express transport services allows them to save a lot of time every day, thus providing the possibility of better supply chain planning throughout the company.
Therefore, during cooperation with EXPRESS BOTAM we respect the time of Supply Chain Managers and we take over the responsibility for organisation and timely delivery. From the first moment you only contact one person who knows everything about the transport of your cargo and you receive their full support. From that point on it is not the Supply Chain Manager but the EXPRESS BOTAM employee who supervises the correct and timely course of your order.
When cooperating with EXPRESS BOTAM you can always be sure that you can contact us at any time of the day or night, 365 days a year. This also applies to the possibility of direct contact with the driver who currently carries your load – you always receive his phone number and the number of the vehicle with your commodities. Additionally our fleet is equipped with a GPS system that allows you to follow the exact route of our vehicles and determine the time remaining until the final delivery date. You do not have to worry about anything
4 – We give you certainty
We know very well that in the face of the risk of a production line stoppage, the company is exposed to huge losses. For Supply Chain Managers, it means huge stress and responsibility for minimising the costs resulting from such a situation. In their case, BOTAM special transport is the last resort. Therefore, having a trusted carrier like BOTAM by a production company is priceless.
BOTAM guarantees that Supply Chain Managers have a greater sense of peace and allow to reduce their liability for certain elements of logistics and supply that they have no real impact on. The process of organizing transport at BOTAM is always predictable and orderly, as it complies with the ISO 2015 procedure. Thanks to this, we effectively take over the responsibility for the delivery of goods, because we are an experienced and trusted partner who keeps their word. While guaranteeing fulfilment of all elements of the transport contract, we also help companies with smooth supply chain that allows the Supply Chain Manager to maintain full control over the situation.
5 – Timeliness of transport at the level of 99.9%
At EXPRESS BOTAM, having at our disposal our own fleet of dedicated transport vehicles with a GVM up to 3.5 tonnes, we are able to respond quickly and flexibly to any "just in time" delivery order throughout the European Union.
Our many years of experience and professionalism allow us to guarantee that each transport will be delivered on time, in accordance with the assumptions of the contract. This is confirmed by the fact that in 2018 our fleet has travelled as much as 4.5 million km, completing 99.9% of deliveries within the set deadline. That is why we guarantee each and every customer the delivery of goods on time – in the event of failure to meet the deadline specified in the contract, the transport is carried out for free.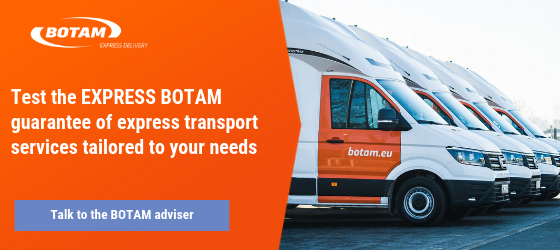 At BOTAM, we understand that in many industries, such as automotive, production and transport work on the principle of communicating vessels. This is why, you need an experienced carrier that you can fully trust. A carrier that will treat your order as a priority, ensuring a completely personal approach. Choose EXPRESS BOTAM – a company that guarantees timely delivery of express dedicated transport.